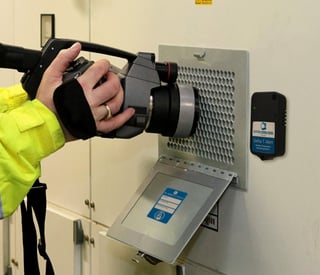 IRISS is proud to launch our next generation intuitive Asset Information Tagging System called E Sentry Connect ™. E Sentry Connect™ utilizes Near Field Communication (NFC) contactless Smart Card technology that allows smart phone and tablet devices with NFC to easily access critical data relating to the equipment being inspected and also save up-to-date inspection data directly to the asset's E Sentry Connect™ tag via a free Android Application.
By using this intelligent asset management NFC technology within the E Sentry Connect™ tagging system, any industry where Infrared Windows are utilized now have a quick, flexible and reliable way to electronically track and maintain inspection history. This technology is suitable for even the hazardous and hostile environments found on offshore platforms, refineries and petrochemical processing plants. The time taken to recertify, inspect or repair equipment manually with hard copy inspection records, paper work orders and certificates can be reduced significantly using this technology. Intelligent asset tagging also reduces the length of safety checks, saving downtime.
E Sentry Connect cards will now be included as standard on all CAP Series infrared windows and can also be purchased separately and added to any other IR Window system.